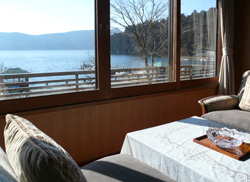 We are the lakeside ryokan (Japanese style hotel) and have more than one hundred year's history in Hakone. You can enjoy the beautiful view of Lake Ashi and the seasonal changes in the wonderful scenery of Hakone.
Please don't hesitate to contact us for further information.
To international customers, online inquiry & reservation is to be prepared soon, and currently contact by fax is much appreciated.
We can speak in English and Spanish to serve you.
Check-in/Check-out time
Check-in: 3:00 p.m.
Check-out: 10:00 a.m.
About us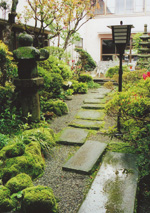 Quaint traditional Japanese style hotel
We are the lakeside "ryokan" (Japanese style hotel) and have more than one hundred year's history in Hakone.
We provide you with the traditional Japanese room -- where soft light coming through "shoji" (paper sliding door), "toko no ma" (alcove in a traditional Japanese room) with "kake jiku" (scroll picture) and "ike bana" (Japanese flower arrangement), "tatami" flooring and "fusuma" sling door form such a tranquil Japanese space.
All our rooms are unique and individually decorated. You can find our own ambience with a little bit different from other hotels and ryokan in our rooms.... that are lakeside rooms, rooms look out on the patio and the room was a resort villa of a different location in Taisho period.
From a lakeside room, you can enjoy winds blowing across water and seasonal changes in the scenery of Lake Ashi , and fireworks at the festival of Hakone shrine in every summer which are really impressive and beautiful.
From a room faced on the patio, you can see "Komagatake" (Mt. Koma) set off against the blue sky.
Our rooms have their names individually derived from mountains and hills in Hakone, flowers and trees in Hakone. Some names are derived from the raw material of "toko bashira" alcove post.
Let's trace the name of your room to its origin!

Facilities
Capacity: 70 persons
Rooms:18 rooms

All Japanese-style and individually decorated.
We have 2 types of room, room with bathroom (not hot spring) and room without bathroom
We can accommodate various occupancies. Please don't hesitate to contact us for your request.

Banquet room (Japanese-style)
Library: You can enjoy the quiet and relax time in the library lounge.
Hot spring/ Simple thermal * You can enjoy hot springs without staying the night over. For details, please see Hot spring for day-trippers page.
Patio: blending of Japanese and Western elements
Souvenir shop: You can find the excellent Hakone souvenirs. We recommend "Hakone zaiku" Hakone wooden mosaic craft.
Contact
For further information on Accommodation and Day trip to hot springs, please see Contact.